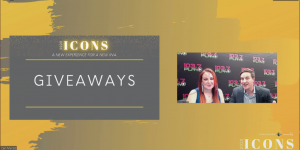 Earlier this month, ChamberRVA's 
HYPE
 program hosted their annual Icons Awards Ceremony! Three of our Astyra internal office members tuned in to the Zoom meeting with a free meal and drink.
Carmen enjoyed hearing from keynote speaker, Rodney Robinson whose "speech was humorous yet very inspirational, engaging, and empowering." He reminded her that, 'sometimes you need to sit down to refocus!'
Vic loved the challenging trivia questions based on Richmond and its history. Although he didn't have much luck getting to the top 5.
Tianna's favorite part was the hilarious commentary other various speakers especially local radio hosts Melissa and Jack.
Overall, the event was well put together and highly entertaining!