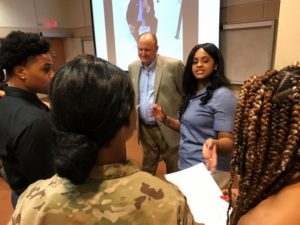 Our Recruiting Assistant and 
Virginia State University
 alumna, Taylor helped teach a one-day profession enhancement course in August.
She lectured students on crafting elevator speeches and sparking interest in the person they are speaking with. Taylor also coached the students on proper handshake techniques and body language. The students received tips on how to improve their overall demeanor when marketing their professional skills.
Following the course, students felt more confident in their abilities to meet and speak with professionals.