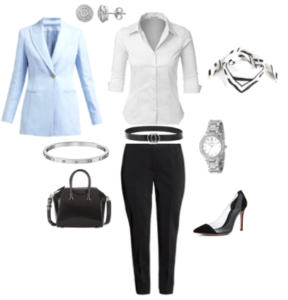 There is a lot that goes into the final product when picking an outfit for an interview. I will go through the deciding factors of how to create the best interview outfit for you therefore making the outfit selecting process a little easier.
If you haven't read them yet, check out the preceding articles company dress code and seasonal fabrics as they will provide tips leading to my final point!
At this point, you have the outfit style and the right fabrics, but none of that matters if you are not comfortable in what you are wearing. Comfort could mean a lot of things for you, it could be in the colors you wear, the sizing of your clothes, or the cut/shape of the fabric and how it looks/feels on you. Regardless of how you define comfort, you MUST have it in order for your interview to be successful. I always say, "if it doesn't work, don't force it." An interview is not the time to experiment with clothes you "think" you might like or styles you have been dying to try. An interview is a meeting where someone is trying to get know YOU! You know what flatters your shape, you know what colors look good on you, and you know what fits you not too long or too short, but just right. Making sure that your outfit fits you comfortably, allows you to be confident in what you are wearing, which in return promotes confidence in you. Who wouldn't want a little confidence going into an interview?
That wasn't so hard was it? Follow these tips and you'll be fashion-ready for your interview in no time!