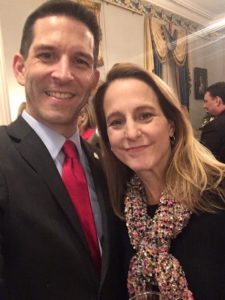 Aaron's 25 year career as a Digital Creative and Strategy lead has led him all over the country. From New Jersey to San Francisco, to Portland Oregon, and finally to Richmond, Virginia, he has experienced nearly every perspective of interactive development. Before joining Astyra in 2015, Aaron worked for 8 years as the in-house interactive creative director at CarMax, helping to grow their dynamic team and develop their current online and in-store digital strategy.
Aaron currently works for the Commonwealth of Virginia in the Office of the Governor. His role is to maintain consistent communication for the Governor, all 12 secretariats of the executive branch, the communication team, the First Lady and the executive mansion. He enjoys the variety of work, the extreme pace, and(most of all) the integrity and commitment of his clients.
At home, Aaron enjoys spending time with his family, traveling in the Blue Ridge Mountains, and fixing all things: from websites to toasters.