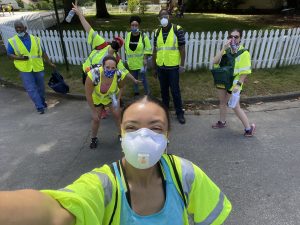 While our recruiters were busy hiring individuals to help trace the pandemic, our Corporate Communications Specialist, Tianna, was going door to door handing out personal protective equipment (PPE) with 
Henrico Too Smart 2 Start Coalition
 board members!
Henrico County arranged routes for volunteers to follow in local neighborhoods to ensure the community had enough personal protective equipment to use when businesses began to open. Then, one early Saturday morning, volunteers teamed up to cover each route.
"It's rewarding to hear how appreciative people are that Henrico County arranged this initiative and that we offered to help carry it out," Tianna said.
Although the day went by quickly, the feeling of the kind gesture lasted much longer.