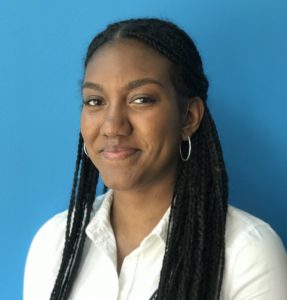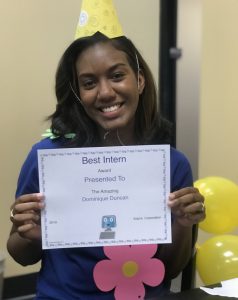 When I first walked into Astyra, I knew I would love it. Ashley, the Operations Admin and Executive Assistant decorates the office seasonally with happy and fun décor. The Executives, Account Managers, the Recruiting Team and the Operations Team all warmly greeted me. I was then led to my own personal desk for the summer and invited to my first 'Monday Morning Meeting'. At the meeting, I learned everyone's specific roles and was able to see first-hand how dedicated they are to the success of the talent they recruit. They take the work they do seriously, and all the teams work closely together to meet goals. Best of all, I realized that Astyra is a group of hardworking people who love to have fun and enjoy their day at work! 
Astyra works hard, but they also play hard too.
            Throughout my journey, Tianna, Astyra's Corporate Communications Specialist was teaching and guiding me. She handles ALL things media: the newsletter, branding, the blog, the website and the social media pages. She also handles all things tech! This is where I would get introduced to a wealth of information that will be valuable on my educational and professional journey as a Computer Science major at Auburn University.
            My first couple of weeks focused on learning about computer networking, Astyra's network topology (map), IT Documentation and asset management. Hands-on experience managing cables in the IT closet and troubleshooting network devices and equipment added to my experience. My next course of learning was discovering Astyra's network security devices and learning how to use their network security software.
Creating social media content for Astyra filled my free time. This was awesome, as I had previous experience in social media management. Surprisingly, I was still learning many new things that I have since add to my toolkit!
The Operations Team met weekly and encouraged me to discuss everything I learned, what I would like to learn and any other relevant information. I always felt like I could speak up. My team was accommodating and wanted to make sure my internship experience was enjoyable.
          My last couple of weeks involved performing various administrative tasks and completing projects related to my personal career goals that I will be pursing after I graduate. In between learning loads of new skills, I was also getting to know the diverse team, making real friends and enjoying the office experience. We had frequent interactions with the executives Ken and Sam. They are hands on with the team and truly the life of the party.
I always felt welcomed and included at Astyra. It is rare to find a workplace that feels like home. Astyra even has two Leopard Geckos: Uggs and Red, who hang out in their tank at the front desk! Because of these two, I held a Leopard Gecko for the first time! Interning for Astyra has been a real treat and something that has been valuable to me personally and academically. I couldn't be more appreciative of such a well-rounded, unique and personalized experience. I have gained a new family at Astyra, and they have been such an awesome part of my journey helping me prepare for my next steps. I am certain they will still be here to help me in any way I need in the future. I want to thank Astyra for seeing value in me and giving me the tools to be successful professionally.