08/2018
by Tianna Mosby
---

Vivia, Melissa, Carmen, Tianna, Ken, Taylor
Cutting bagels, organizing donations and greeting everybody with a smile was the job of six Astyra employees on an early Tuesday morning.
At 
Shepherd's Way Relief Center, 
Astyra helped prepare and serve breakfast to 133 people in need. The center was founded in Richmond in 2012 by Sigmund Collins to provide relief from the afflictions of poverty.
That morning, the kitchen manager Richard Lepper, showed up at 6:30 to make seven pounds of grits and about 25 dozen eggs. At 8:30 a.m., Astyra volunteers arrived not knowing what to expect but excited to work and help out in the community.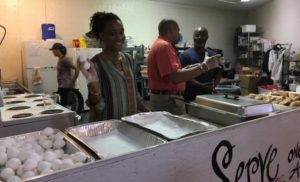 On one side of the kitchen,
Carmen
handed out hard-boiled eggs while
Tianna
passed out a variety of bagels. Our CEO,
Ken
, got an intense arm workout from scooping the crowd's favorite: cheesy grits drenched in butter.
Just past the serving table,
Melissa
sweetened everybody's day by giving them sugar packets for their coffee.
Vivia
helped flavor the bagels by providing jelly, cream cheese and butter. Lastly,
Taylor
was in charge of ensuring everybody had the utensils they needed to enjoy their hot meal.
Astyra also had an office drive the month before that led to the donation of three large bags of clothes, jewelry, shoes and a box full of canned foods and toiletries to Shepherd's Way Relief Center.
The Reinhart House is a place for patients' families to stay rather than driving far distances to and from the hospital. As a way to support the families, the lodge allows volunteers to come and cook a meal for the residents.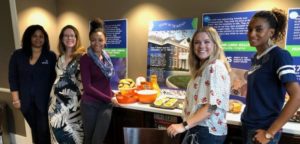 Astyra has been a long-time volunteer for the Reinhart House, which made it easy to prepare for the day. The Astyra volunteers made vegetable breakfast casserole muffins, home fries, bacon and biscuits.
Melissa multi-tasked between supervising and frying the home fries. Carmen and Jody focused on cutting the onions and tomatoes while Tianna whisked the eggs. Brenna was on bacon duty ensuring they were just the right amount of crispy. Our CEO, Ken, baked the biscuits to a golden brown.
The breakfast turned out to be a hit!
"The breakfast flew out of here – loved by everyone," said Elisabeth Rigsby, house assistant.