by Tianna Mosby | 07/12/2018 | MBL Remarkable Women's Luncheon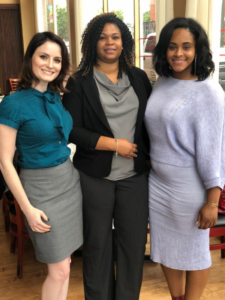 This quarter's Remarkable Women's Luncheon featured guest speaker Ms. Greta Harris, president and CEO of the Better Housing Coalition. Ms. Harris grew up in Danville, VA as the mayor's daughter. She was the first in her family to attend college and even received a full ride scholarship from Virginia Tech. She had hopes of becoming an engineer, however, her life changed when she attended a summer program at Harvard. She then decided she wanted to be an architect and pursued a degree from a Colombian college.When she graduated, she was asked to design an important building in Richmond, VA. She was thrilled to receive this opportunity considering it was unlikely for a gay African American woman to even work in this male-dominated industry. Just when life was going good for Ms. Harris and she thought she has it all, she was laid off. She just bought a house and wasn't sure what to do. Luckily, her friend connected her to other architects and she was able to land a top job for eight years.
"Always hold on to your values, during the good, bad and indifferent. Stay authentic," Ms. Harris said.